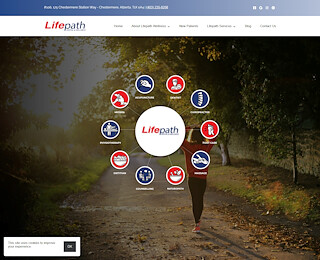 Life is unpredictable, and many times it catches people off-guard. At Lifepath Wellness, we have become experts in dealing with life's unpleasant surprises. Our counseling services help countless people overcome their problems every day.
If you require immediate Calgary counseling, contact us for an urgent appointment. We deal with life problems which, when left untreated, will quickly develop into serious emergencies. With our help, you can avoid these types of situations. Having a vast experience behind us, we take pride in dealing with a wide variety of issues.
When it comes to psychological counseling, not all experts show proficiency in all of the practice's fields. In some cases, you might have to run between specialists to treat your problems effectively.
With our help, you won't need to do that anymore. We cover subjects like:
Compulsive or emotional eating disorders
Psychological addictions (drug, alcohol, gambling, etc.)
Anxiety disorders and stress-related psychological problems
Overcoming intense emotional breakdowns
Recurrent panic attacks
Physical, sexual or mental abuse
Phobias, etc.
We deal with every problem you might have with the same ease and proficiency, which means this list is prone to expand. But if you've never been through a counseling session before, what should you expect? Unlike other specialists in the business, we take things to a different level. We offer:
Patient-oriented care and support
We aim to make everything more comfortable for you. Since we're dealing with extensive psychological problems, we should focus on providing our patients with the maximum comfort. Our Calgary counseling services rely on building the right setting to accommodate everyone, no matter the race, age or social status.
We combine this aspect with finding the most suitable solutions for your problems. Some may require different approaches than others, depending both on the nature of the problem and your unique personality as well. This level of personal approach is hard to come by with other providers.
Vast experience in working with people
A top psychologist needs to possess plenty of social skills, among other qualities. You want your counselor to understand your problem and know how to reach to the root of it. You want someone who can empathize with your situation and provide rapid solutions to any issue you might be confronting. This is precisely what we're offering you.
The years of experience have taught us how important and complex the human behavior is. This is why we can relate to all of our patients easier and provide faster solutions to their predicaments.
The opportunity for a better life
Everyone tries to build a better life for themselves. Contrary to what you might think, life is beautiful and tranquil. You need the proper guidance so that you can see things in the same light. If you feel you need Calgary counseling, contact us now!
At Lifepath Wellness, we will do whatever it takes to help you overcome your issues. You are one phone call away from changing your life for good. Don't miss this opportunity and contact us today!