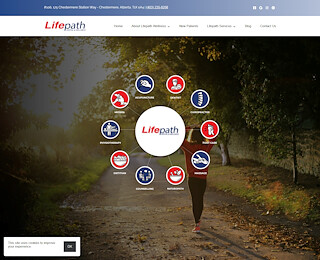 Our eating habits define the quality of our lifestyle. As a consequence, it's vital to have a carefully designed dietary plan on our side. At Lifepath Wellness, our experts are ready to assist you. Most people fail to realize that what and how they eat will influence their overall health in the long-term.
Adopting a healthier lifestyle is not easy without possessing the right knowledge. Shée Lillejord, our Calgary dietitian, will help you overcome that problem. Her vast expertise, combined with plenty of experience on the subject, has helped countless people change their lives for good.
If you've never worked with a professional dietitian before, here is what you should expect:
Patient-oriented dietary strategies
Not everybody functions the same, which means that the nutritional plans should differ accordingly. This is why the best way of finding out what works best for you is by giving us a call. You will talk to our dietitian, share valuable information about your lifestyle habits and medical status, and build an optimal strategy as a result.
It's a personalized process, aiming to increase the efficiency of your diet in the long run. Setting long-term goals is the quintessence of any well-optimized dietary strategy; our expert will help you reach them.
A healthy dose of positivism
Not many people realize that healthy eating is in close relation to a positive mindset. This is the best way to harness the full benefits of a healthier diet. Our Calgary dietitian will teach you how to use positivism to pursue your goals over the years with the same determination as day one.
Being positive and optimistic is what gives you the confidence you require to stick to your goals. This is why our methods work so well for so many people.
Eating as a type of treatment
Treating many diseases relies on adopting healthier eating habits. Conditions like Celiac Disease, Irritable Bowel Syndrome, high blood pressure, ulcerative colitis, and diabetes will be easier to control through an adequate diet. Our specialist holds all the knowledge required in these cases.
Visit our website for the full list of affections we can prevent with the help of an optimal eating program. You will even find dietary tips when dealing with food allergies and intolerances, as well as emotional eating and sports nutrition.
Start changing your life now!
Many things go into building the perfect lifestyle. We always want to combine pragmatism with pleasure, and our dietary programs follow this guideline loyally. Many health problems usually begin as a result of poor alimentary choices.
With the help of our Calgary dietitian, this will change. We'll show you that sticking to a diet doesn't need to be a chore. Not only you will be eating healthier, but tastier meals as well. Tell us about your goals and your problems, and we'll start building your long-term eating plan accordingly.
At Lifepath Wellness, we believe that we are what we eat. Contact us over the phone, and let us know how we can help you!